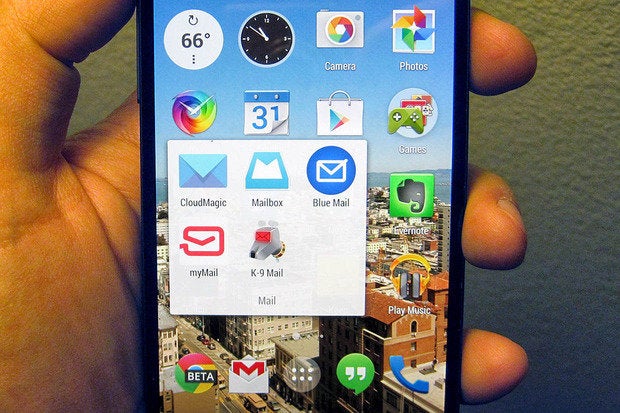 One of the major advantages of using Android is the first-rate Gmail experience. Yet no matter how strong one's devotion to Gmail, staying connected to accounts from other providers is often a necessity.
For many, this may be a work account powered by Microsoft Exchange. Or there may be another account from a service such as Outlook.com, iCloud, or Yahoo that requires occasional checking.
Fortunately there are several good alternative email apps in the Google Play Store, which is practically a necessity given that Android's stock Email app, which is meant to handle Exchange, IMAP, or POP3 accounts, is rather bland looking and light on features.
CloudMagic
If you are looking to consolidate all of your email accounts into one app, go with CloudMagic. It supports nearly every major email platform: Gmail, Microsoft Exchange, iCloud, Outlook.com, Yahoo, and any IMAP or POP3 account. It also rivals Gmail when it comes to search, finding emails very quickly.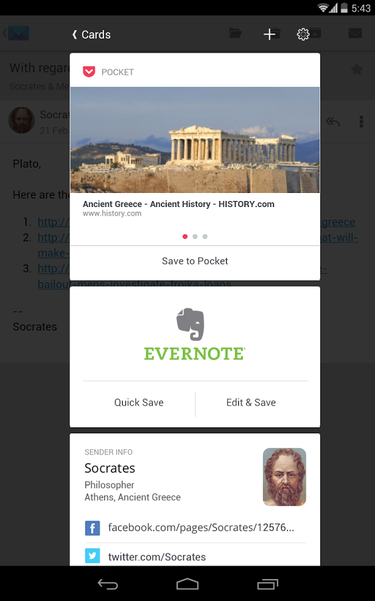 CloudMagic separates the accounts in the left-hand navigation drawer, where you can also quickly access folders. Swipe on each email to delete, archive (for platforms that support it) or mark as unread.
Newsletter
Get the latest news, trends, apps, and tips for your Android phone.
Get our Greenbot download newsletter
Pinch-to-zoom is a little odd – once you begin to zoom with two fingers, there is a momentary hesitation while it launches the image in another window. It then works fine, but is a little clunky in practice.
Recently CloudMagic introduced a filing system known as Cards, whereby you can send an email to Evernote, MailChimp, or other connected services. If you regularly send email to Evernote or one of the other supported services this can be a very powerful feature for mobile productivity.
The only gotcha is this: the reason CloudMagic is so fast at search, reliable with notifications, able to sync between devices, and easy on the battery, is because it accesses and processes your email in the cloud. So, you have to be comfortable with giving another server access to your email.
Mailbox
A recent addition to Android after spending over a year on iOS, Mailbox is for those that want to pare down their inbox to reach the elusive "Inbox Zero." It creates a fluid triage system where you swipe a message to archive, delete, snooze for later or categorize.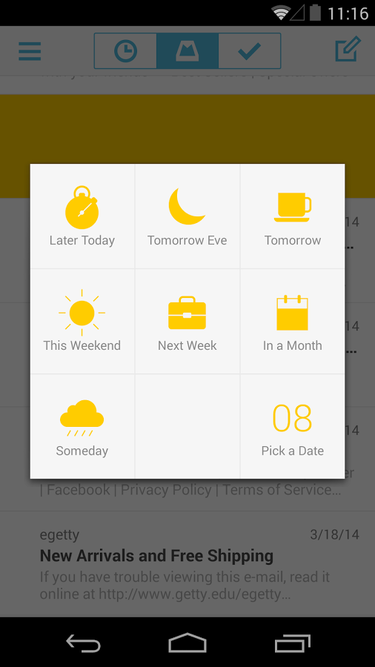 Parent company Dropbox recently enabled optimization with seven-inch tablets and is slowly rolling out a beta of a desktop app for Mac. Mailbox currently only works with Gmail and iCloud, pledging support for other platforms "soon" (although that promise has been around for a while). It may not be for Gmail power users as it does not sync up Gmail's labels, instead placing the priority on its own filing system.
Blue Mail
Blue Mail is another solid choice for moving all accounts to one app, as it supports practically every major email platform (Exchange is performed through IMAP, however, which does not give the same level of fidelity as Exchange ActiveSync).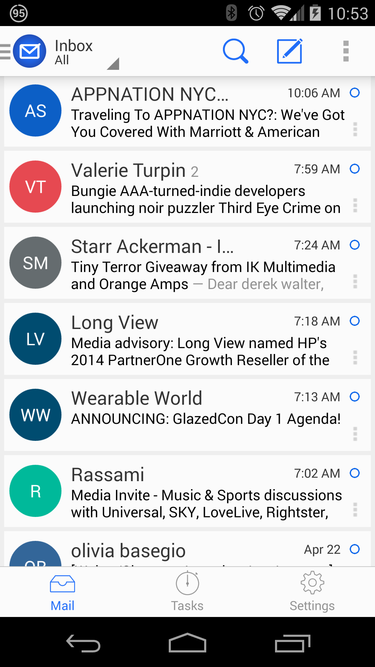 By default BlueMail puts a profile picture with each message, option for initials if none is available. Prioritize messages in order to reach Zero Inbox—this app's term for clearing out all messages. Like Mailbox, you can put off a message for later by a specific date or to a yet-to-be-determined time in the future.
myMail
The myMail app has a minimalist, iOS 7-like interface that tries to get out of your way to focus on the message content. It offers avatars and icons for many of the most popular services to help distinguish between accounts when going through the inbox. Primarily consumer focused, it does not support Microsoft Exchange accounts.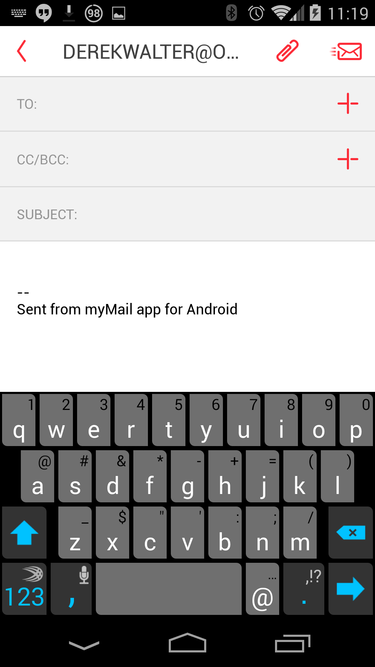 To minimize the constant distraction of email, you can specify when push notifications arrive for new messages. It also creates a preview of images so you can glance at the message's images. The myMail app also works across Android tablets as well as smartphones.
If you are a fan of the applcation and don't yet have enough email addresses you can get a custom @my.com address.
K-9 Mail
If you are a fan of open source, K-9 Mail may be a good choice. Android power users who like to dig around the internals of an app can view and contribute to the K-9 source code. The app is a community-developed project, so while it may not have as many features as others it can be extended by the right developer.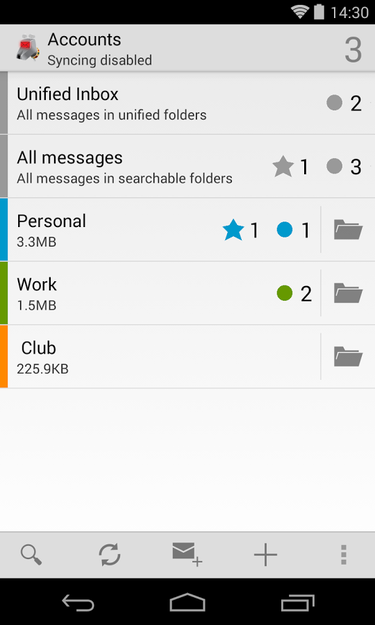 The aesthetic is very similar to the stock Android app, with the option to view all messages in an unified inbox or by separate accounts. K-9 supports IMAP, POP3, and Exchange 2003 and 2007 with WebDAV. Specify specific folders for syncing and create a custom signature to send out when accessing email from K-9…
Follow Prince odafe on Twitter